Sport at St Thomas More School is wide and varied.
We have many sports on offer, both individual sports and team sports.
We take part in many sporting events inclusive and competitive and many of our children have represented the school in various sporting activities across the district.
Here you can read about some of our recent sporting exploits!
We have been awarded these certificates in recognition of our engagement in sporting activities in Key Stage 1
Mark Framework 2020/21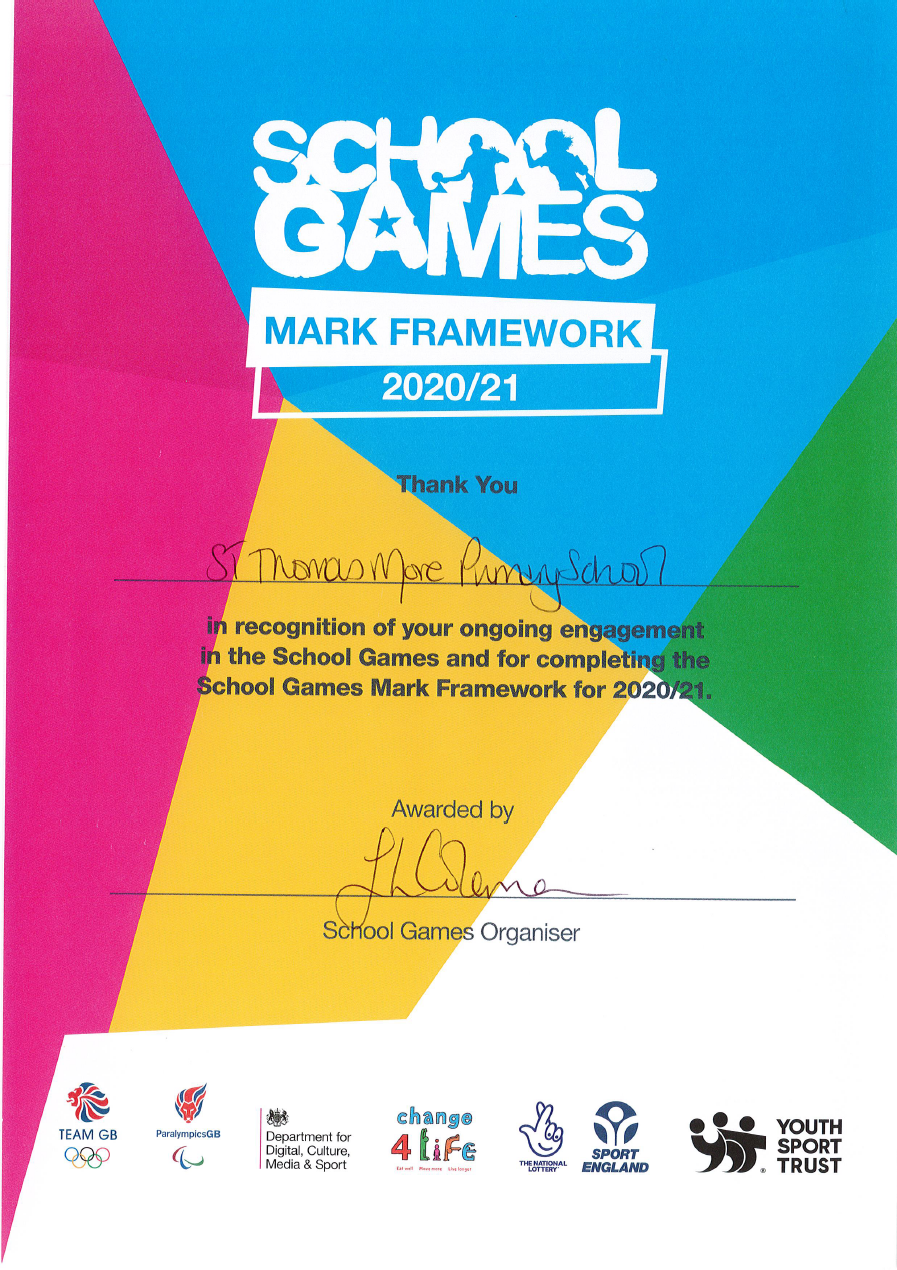 and Active Essex Key Stage 1 Sport and Activity Award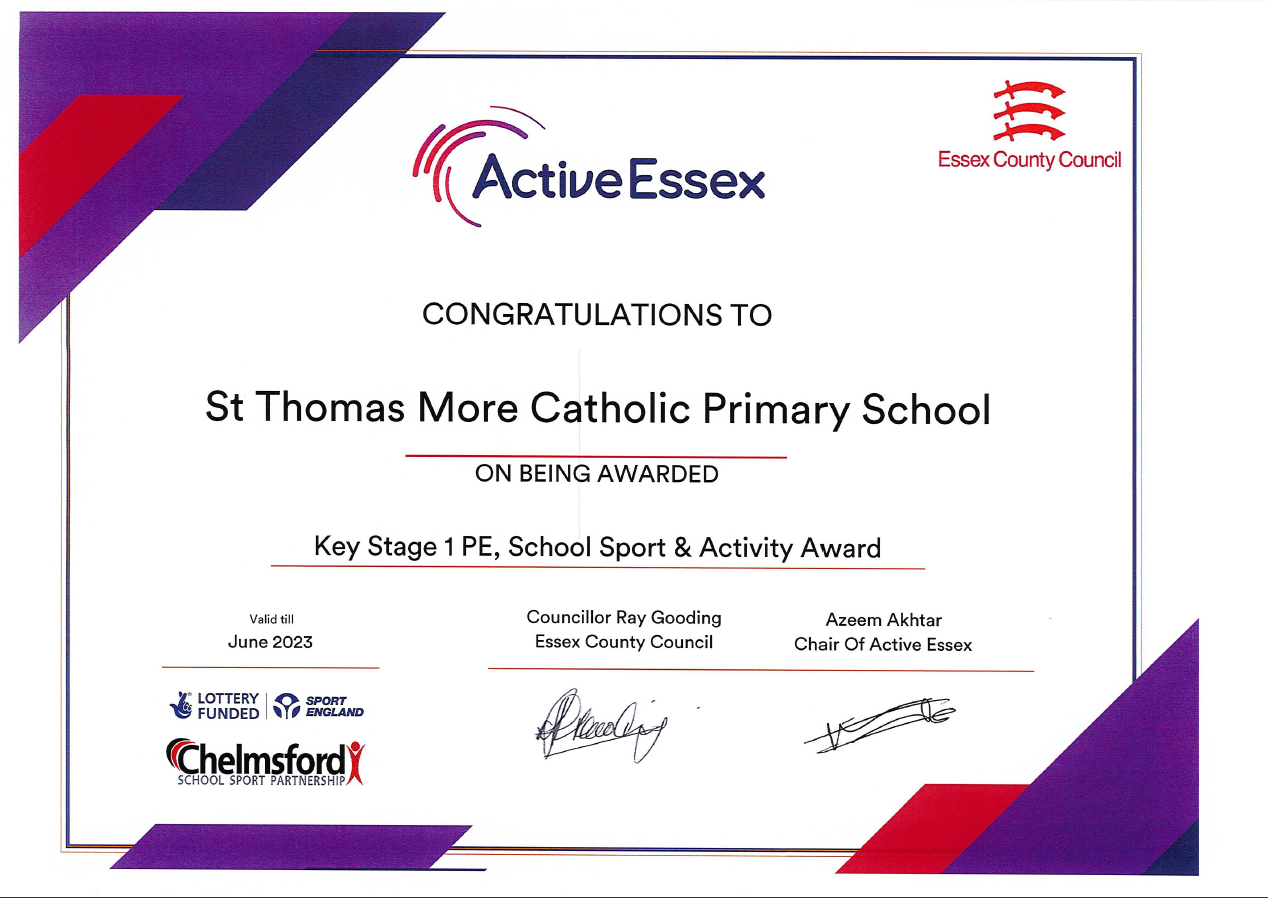 2023 / 2024
Kurling
On Wednesday 4th October our Year 6 Kurling and Boccia teams took part in the USSP competition at the Lord Butler Leisure Centre. The children were split into two teams, with one taking part in the Kurling tournament and the other in the Boccia tournament. Both teams worked together to discuss their tactics and moves, and worked tremendously well. The final of the Boccia took place with one team playing against RA Butler and successfully winning gold. The final of the Kurling came down to both our St Thomas more teams playing against each other to win gold.

After a very successful morning both teams secured gold in each event, with one team winning silver and gold.

A huge well done to everyone who took part, and we now look forward to them representing Uttlesford in the County Finals in Basildon after Christmas.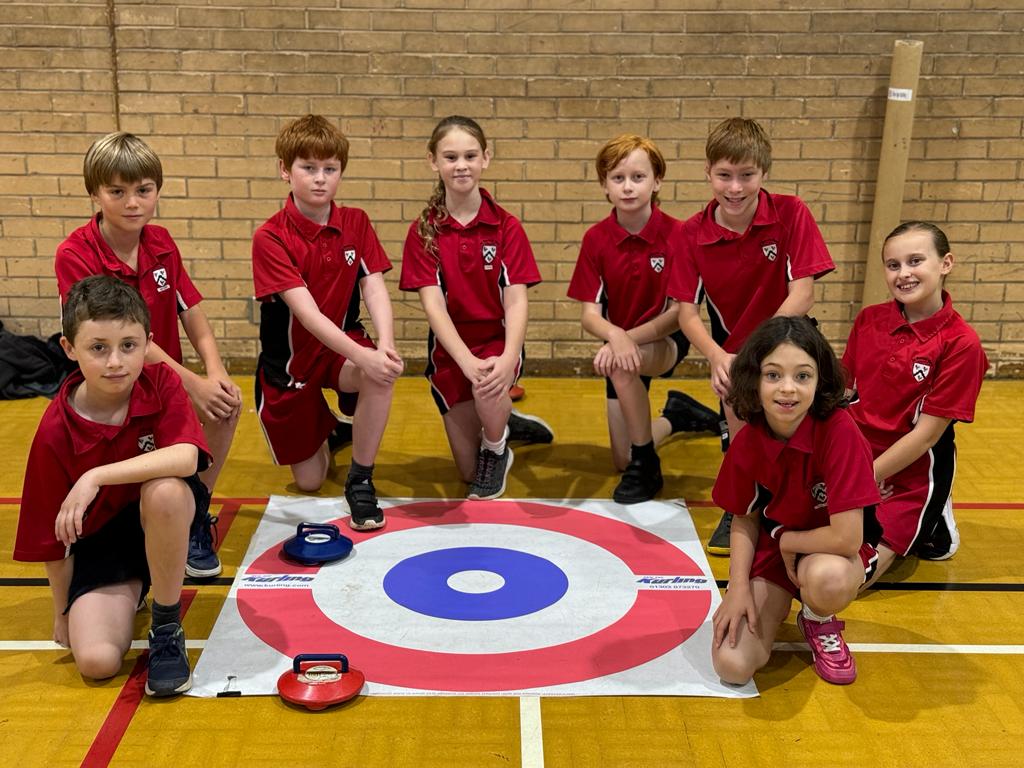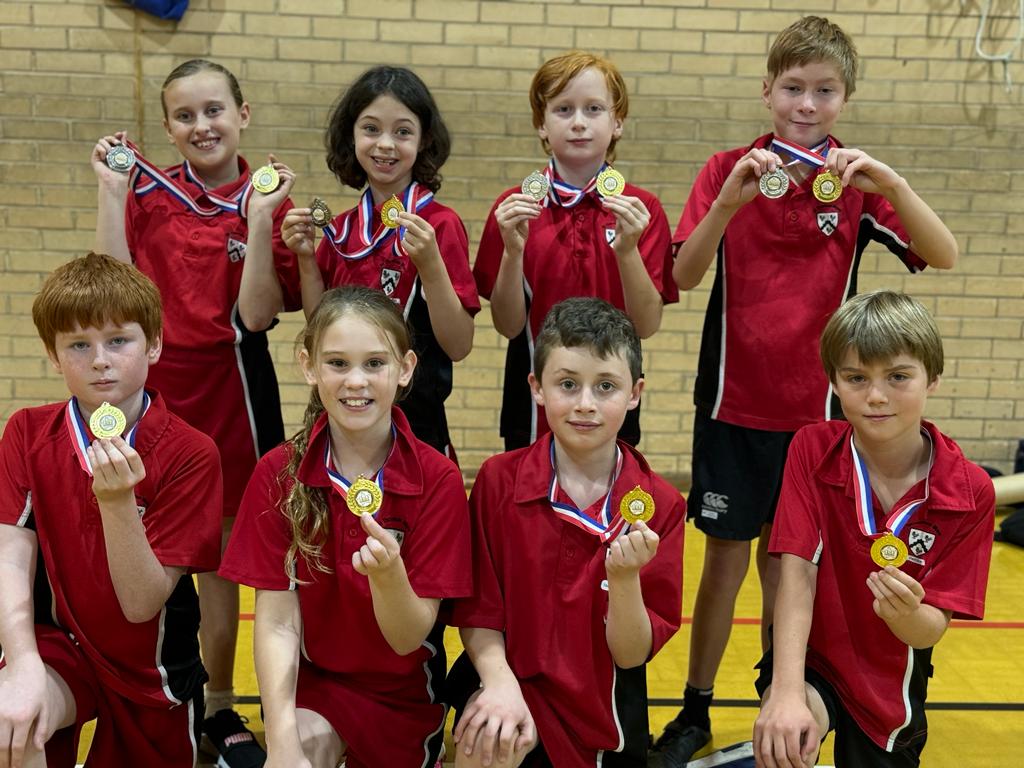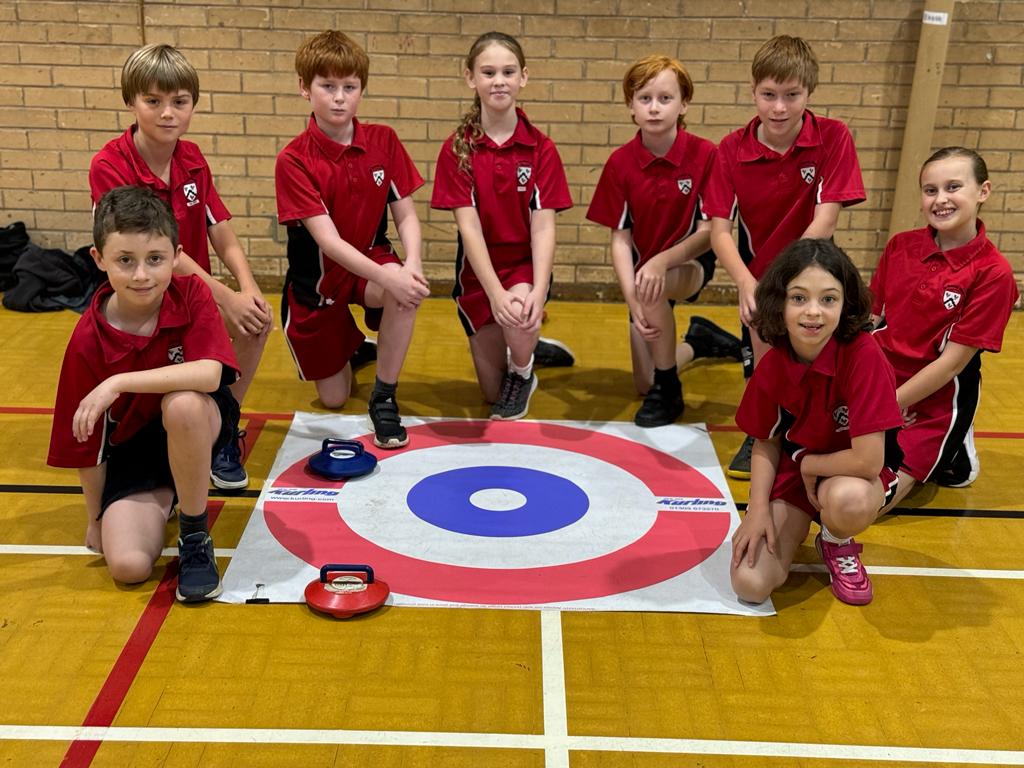 2022 / 2023
Cheerleaders
On Wednesday 29th March our Year 6 cheerleading team and our Gymnastics club performed in front of a sold out crowd at the annual Gym and Dance Show at Saffron Hall.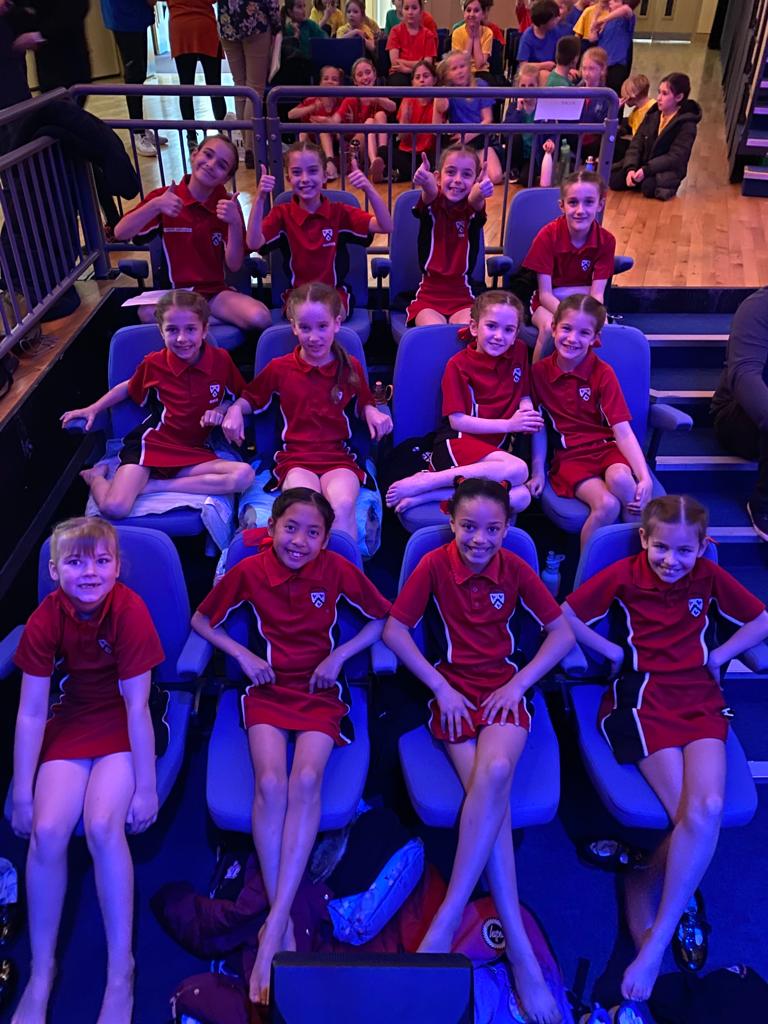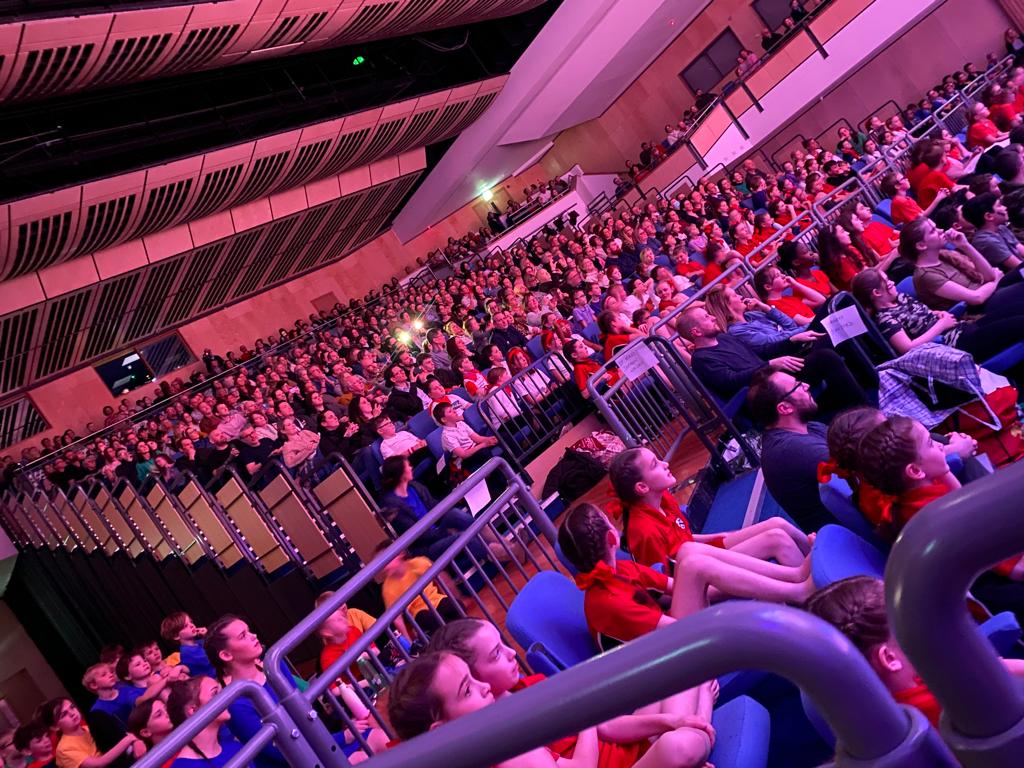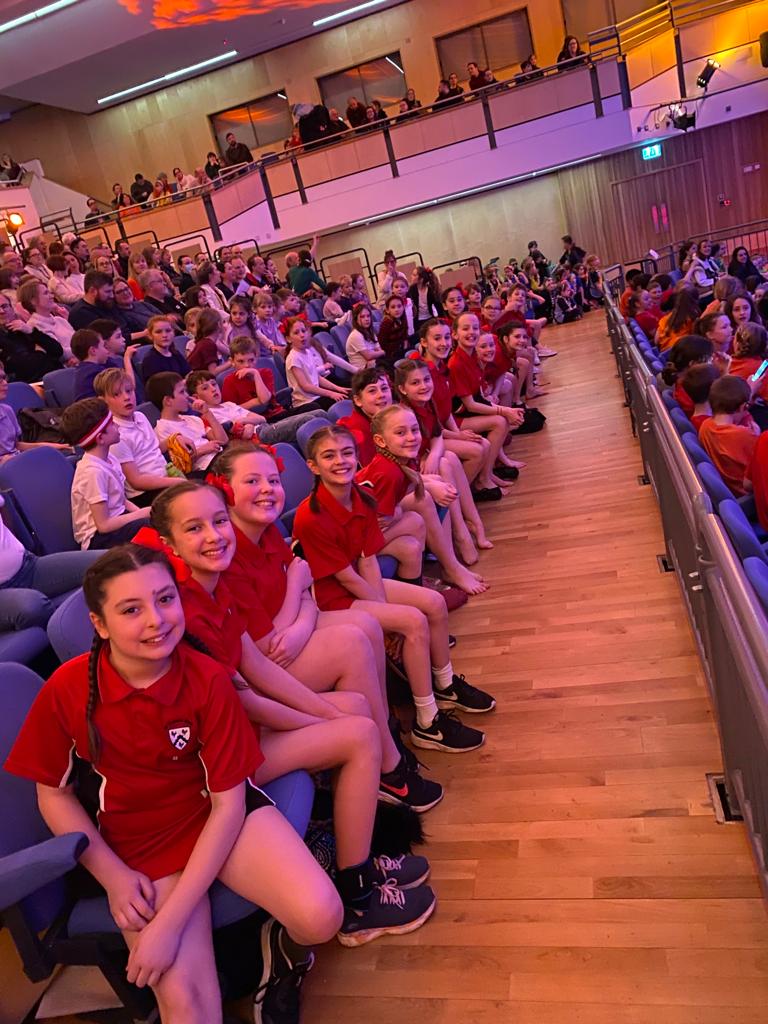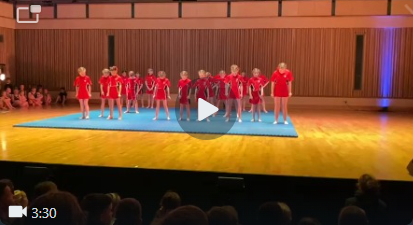 Year 2 Dance
Our Year 2 class have been working really hard in their PE lesson learning a dance which they performed in front of Year 1 this week.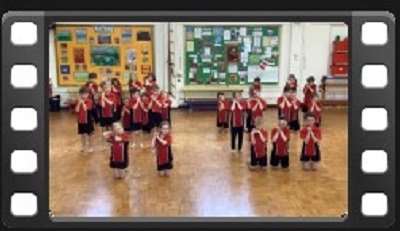 Year 1 Dance
Our Year 1 class have been working really hard too to learn a dance which reflects their class topic of fairy tales!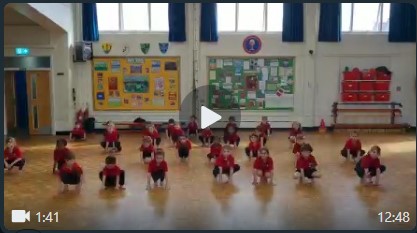 Year 6 Athletics
The Year 6 indoor athletics team took part in the county indoor athletics final last week in Southend and finished as bronze medallists!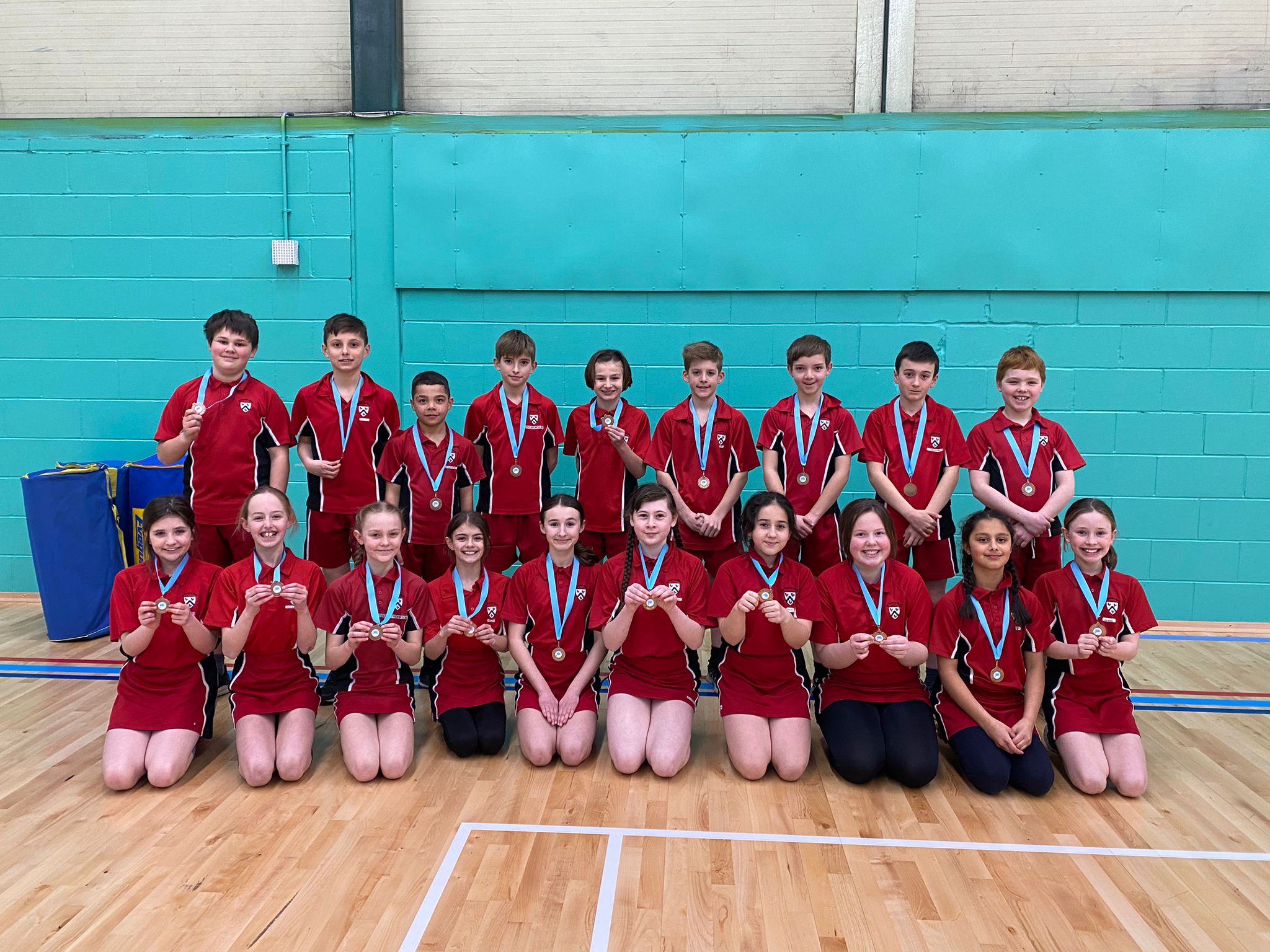 2021 / 2022
District Rounders
On Wednesday 18th May our Year 6 Rounders team took part in district rounders competition, held at The Joyce Frankland Academy.
A close group stage resulted in a win for the team.They met a strong Katherine Semar team in the semi final. In a nail biting match, a fumbled field in the last ball saw Toby score the winning rounder, placing us in the final against Newport. After a shaky start, a fantastic catch by Aaron and super bowling from Ava the team clinched the win for St Thomas More.
Rapid Fire
On Wednesday 4th May our Year 4 cricket team took part in the USSP rapid fire cricket tournament at Saffron Walden Cricket Club.
The team started well winning their first game against Radwinter and then their second against St Mary's. They finished top of the group and faced another St Mary's team in the final. Well done to all the children who took part.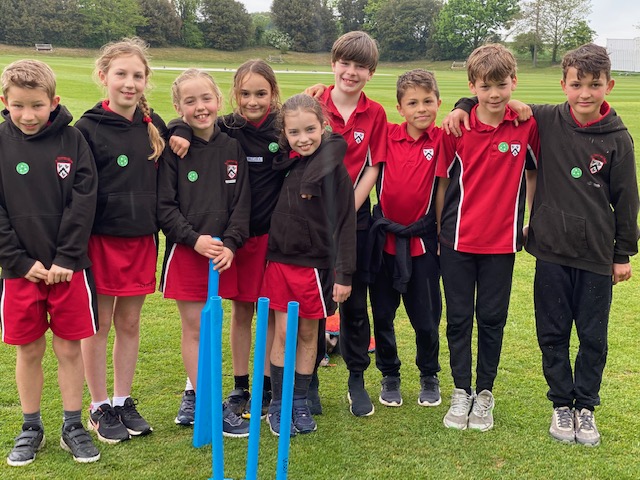 Cross Country County Finals
On Wednesday 27th April our three qualifying teams took part in the county cross country finals at Garons Park Southend, along with our individual qualifier. All children despite an early start and a very cold day, competed with determination and good spirits.
Fantastic running from everyone saw our Year 6 girls team finish 6th and our Year 4 girls team finish 10th. Superb running by the Year 3 girls saw them finish as County Champions in 1st place!
Well done to all children!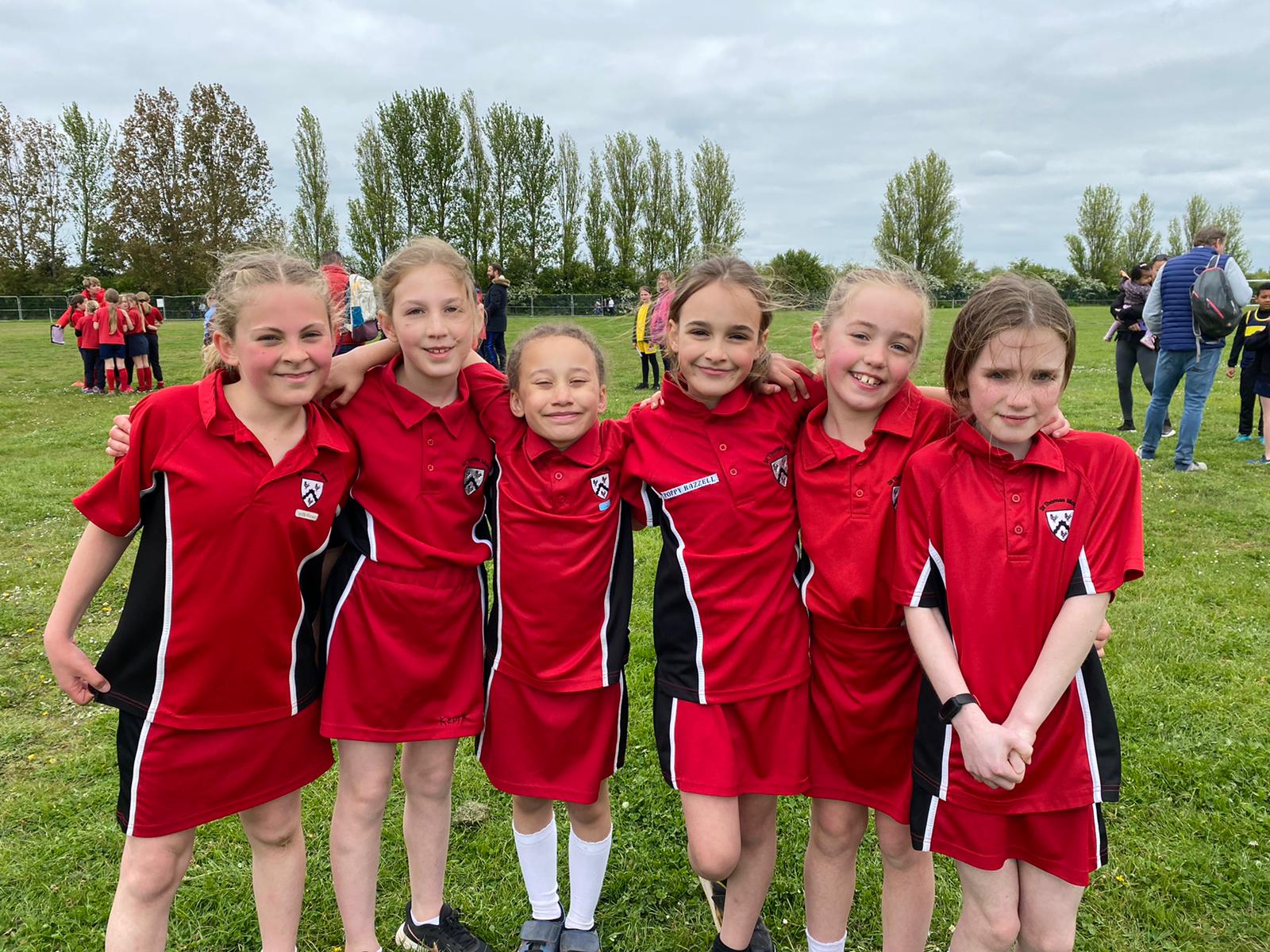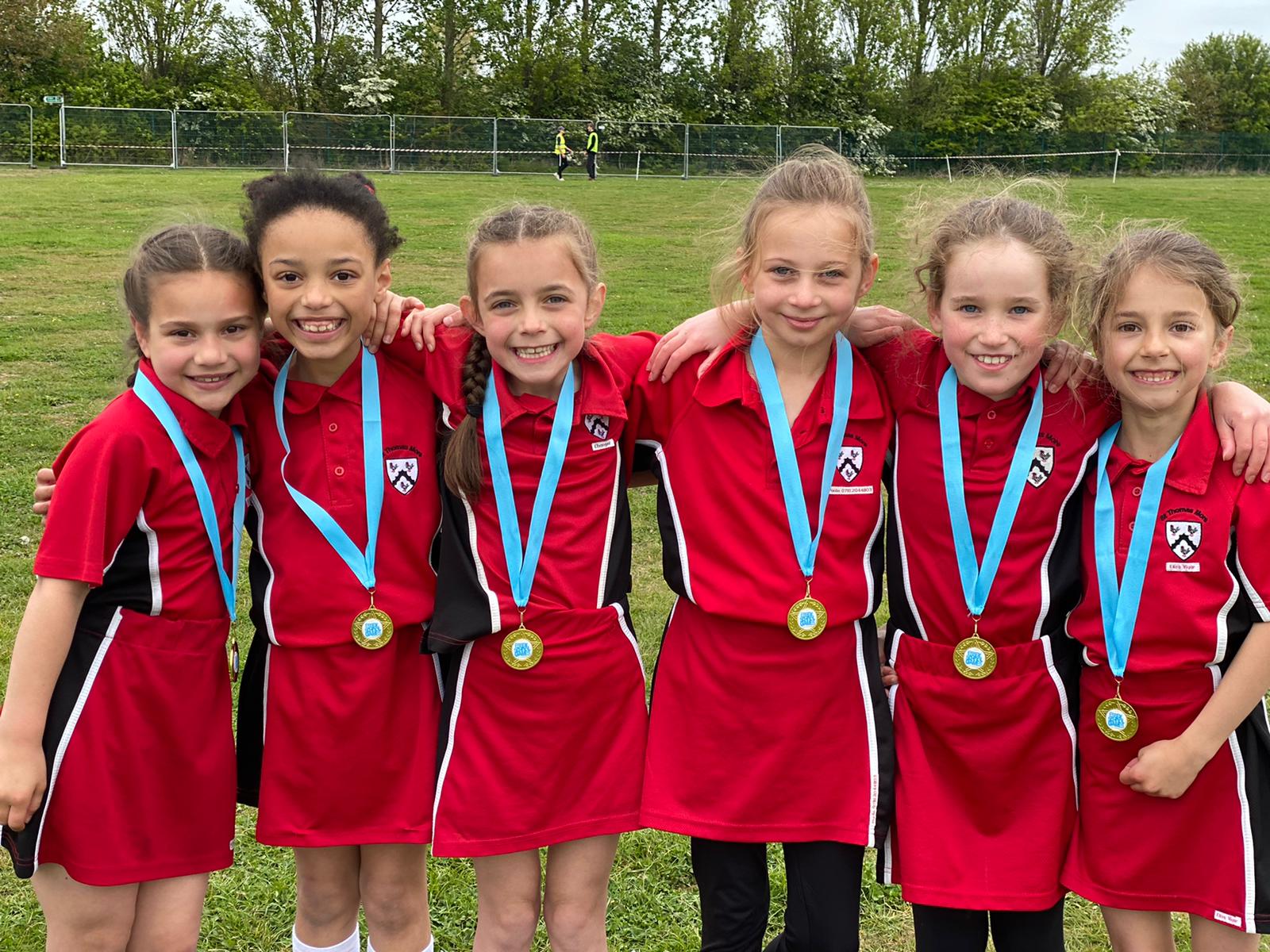 Swimming Gala
On Friday 22nd April our Year 3&4 and Year 5&6 swimming teams travelled to Dunmow for the District finals of the swimming gala.
36 children took part in a number of different races throughout the afternoon against 12 other schools. Some fantastic swimming efforts made by the children, saw both age groups finish in 1st place as district champions.
A huge well done to every child who took part.
Archery
On Thursday 28th April our Year 5 Archery team took part in the district finals at RA Butler school. They faced opponents from 10 other schools across the district in a five round tournament.
After a fantastic first round where all four children scored a bullseye they settled into their game, only missing the board 4 times from 60 shots. Their teamwork was incredible, leading them to a fantastic 45 score placing them in gold medal position and winning the district cup! A huge well done to Sebastian, Chloe, Alice and Felix.
Cross Country
On Friday 10th March our Junior Cross Country teams took part in the district finals at Carver Barracks. In tough conditions all children showed great determination as they took to the field. Whilst we have yet to receive confirmation of the final team positions, we can confirm the individual medallists were Ava - Gold, India and Clara - Silver and Eliza - Bronze.
These children and all individual runners who finished in the top 5 will qualify with the top teams for the County Final at Garons Park Southend on Wednesday 27th April. The qualifying teams are Year 6 girls, Year 4 girls and Year 3 girls.
We wish them all the very best. Well done to all the children and a special thanks to all those parents and grandparents who came to support!
Cheerleading & Gymnastics
Our cheerleading team and the gym team took part in the partnership Gym and Dance show Saffron Hall on the 9th March.  A big well done to the children who took part. It was a fun event held at Saffron Hall and all the children gave fantastic performances!
.
Swimming Gala
On Wednesday 9th March after a two year wait, our junior swimming team took part in the USSP swimming Gala at the Lord Butler Leisure Centre. The children took to the water in a mix of individual and team rally events, achieving some fantastic results. Despite a very tight margin between us and Dame Bradbury school, we successfully returned both the Year 3/4 and 5/6 trophies back to the school with a double team win!
Well done to everyone who took part and we wish them all the best in the next round on 22nd April at Dunmow.
Year 3 Country Dancing
Year 3 have been learning some country dance moves in their PE lessons this term.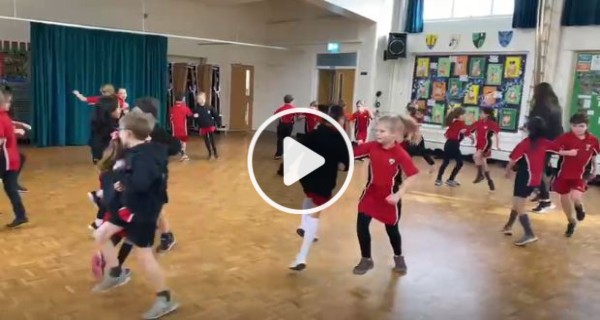 USSP Cross Country
On Wednesday 3rd October, lots or our Junior children took part in the USSP Cross Country Competition at Herbert's Farm.
Year 3/4 ran a course of 1200m and Years 5/6 ran 1500m. Every child ran their absolute best and competed at a high level against local schools. We had some fantastic individual and team results. Any child who finished in the top 10 will progress to the next level as will the children who qualified in 1st, 2nd and 3rd place as a team. A huge well done to everyone who took part and a special thanks to our parents who supported the children.
The next level event is due to be held at Carver Barracks.
Year 5 & 6 Football
On Wednesday 6th October, our Year 5 & 6 Football teams took part in the Uttlesford Football Tournament.
Player of the tournament for the boys was Felix who gave a superb performance.
The afternoon was the girls turn and the player of the tournament was Goalkeeper Autumn, who carried out some incredible saves.
Well done to everyone who took part!