Sport at St Thomas More School is wide and varied.
We have many sports on offer, both individual sports and team sports.
We take part in many sporting events inclusive and competitive and many of our children have represented the school in various sporting activities across the district.
Here you can read about some of our recent sporting exploits!
Indoor Athletics - Year 3 & 4
On Tuesday 29th January our Year 3 and 4 indoor athletics teams took part in the USSP event held at Dame Bradbury School. It was a busy afternoon of athletics with individual placings for our children in the field events. Following some very competitive track events, our blue team were placed 4th and our red team finished 2nd. Well done to everyone who took part.
Indoor Athletics - Year 5 & 6
On Wednesday 30th January Year 5 and 6 teams competed in the same event.
Individual placings were awarded to:
Harriet: 3rd chest push
Patrick: 2nd chest push
Holly: 2nd long jump and 1st triple jump
India: 2nd vertical jump
Zachary: 3rd speed bounce
Nicole: 2nd javelin
With further super results on the track our blue team finished 7th and our red team 3rd. Well done to everyone who took part.
Football - Year 5 & 6
On Tuesday 5th February our Year 5-6 football teams played against Dame Bradbury School. Super football played on both pitches with goals by Tristan, Zachary, Daniel and Freddie.
Both games despite losses of 3-2 and 5-3 were no reflection on how well our boys played. Man of the Match goes to Seamus for great strength and distribution of the ball whilst out on pitch, and some outstanding saves in goal. Also Gus for some fearless and outstanding saves.
Well done to everyone who took part.
Cross Country Finals
On Wednesday 14th November our Cross Country finalists took part in the regional finals at Howe Green School. 32 children from St Thomas More made the finals. Our Year 3 girls team consisted of Ava, India, Emily, Amelie, Teghan and Autumn finishing regional winners. Individual winners were Ava Gold, India Silver, Rocco Silver, Holly Bronze. Amelia 6th and Max and Zachary finishing in 7th. A wonderful display of individual and team focus. Well done to everyone who took part and a special thank you to all the parents and grandparents who came to support us.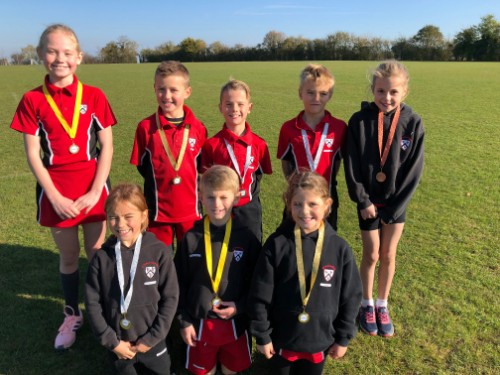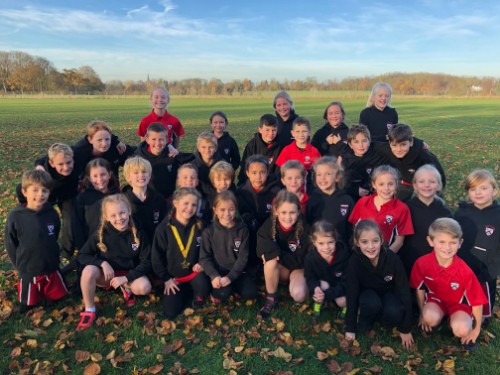 USSP Tag Rugby Tournament
Year 6 took part in the USSP Tag Rugby Tournament. Despite a cold afternoon, all the children had a super time, with trys and tags being scored across the group. Two of our teams finished 1st in their groups and our 3rd team qualified for the USSP regional finals to be held at Carver Barracks on 6th March.


USSP Dodgeball Tournament
Year 4 took part in the USSP Dodgeball Tournament at the Lord Butler Leisure Centre. All children took part and had a wonderful morning dodging and catching balls. St Thomas More finished joint winners with RAB after winning every match and drawing only to RAB School 


Dodgeball Regional Finals
Also on Wednesday 21st our qualifying Year 5 team took part in the regional finals of the Year 5 and 6 Dodgeball Tournament. After a slow start, the team re-focused and won every game in their group to finish 1st in their group and 7th overall. Another super team effort.
Archery
Year 3 and 4 Archery team took part in the USSP Archery Tournament at RA Butler School. All children competed in 8 rounds of archery against 11 other teams. With a constant flow 10s and 9s being scored, the team finished in first place with a 300 point clear lead over silver medal winners. Individual gold medals also won by Lucie and Henry saw an array of gold returning to school. Well done also to Bobbie and Jessica who made up the team. They will go now go onto the regional finals.
Archery
Year 5 and 6 Archery teams competed in their tournament, this time against 15 teams. Following in the success of their Year 3-4 school friends, they also fired with significant success. With our Year 6 team of Holly, Nicole, Arthur, and Oscar winning gold, our Year 5 team, Franio, Zachary, Eva and Maya were only 8 points behind in silver medal position. Individual gold was also won by Oscar. Both teams will now also compete at the regional finals. A wonderful day of archery for all St Thomas More teams.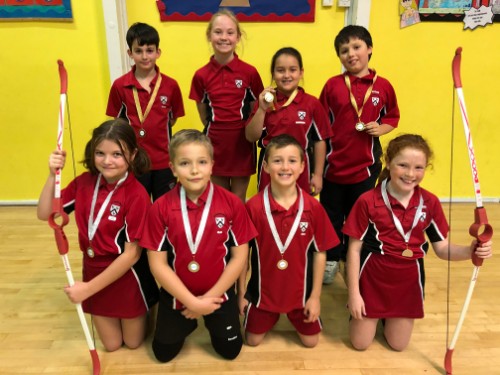 Tag Rugby Festival
Year 3 took part in the annual Tag Rugby Festival at Dame Bradbury School. Despite the rain all children had a wonderful afternoon, developing and learning the game of Tag Rugby. All children took part in 7 matches throughout the afternoon with some super trys and try stopping tags being won. Well done to everyone who took part—we look forward to hopefully seeing some more children joining tag rugby club after Christmas.